Angle Cutters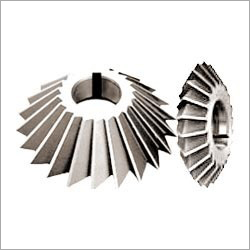 Angle Cutters
Product Description
Capitalizing on our state of the art production technique and well known experts, we have established ourselves as a noted Distributor, Manufacturer, Exporter, Importer and Wholesaler of Angle Cutters. These are milling cutters with the cutting face angled with respect to the axis of rotation. These are offered in various angles ranging from 10 to 45 at most affordable prices. Owing to their remarkable prices, optimum strength, minimal maintenance requirements, reliability, seamless quality, and unmatchable performance, our Angle Cutters are extensively in demand.
Other details:
Angle cutters include a 45 lead angle roughing cutter, 30 lead angle cutter, 30 lead angle roughing cutter, and 30 lead angle finishing and semi-finishing cutters.
These angle cutters use 2-sided hexagonal inserts with 12 true cutting edges. Double negative geometry provides strength needed for high metal removal rates.
Their diameters range from 3-12 in. and 80-315 mm. A milling cutter is also available in diameters from 3 inches to 12 inches and 80 mm to 315 mm metric diameters.
The 45 lead angle cutter is the first choice for roughing operations because of its high strength while the 30 lead angle roughing cutter offers an alternative for reducing breakout and also accepts wiper inserts. Angle iron cutters have special blades that have a 18 inch thick angle.
Angle cutters are designed and manufactured to meet most industry specifications.